Tips and Advice for a Successful Exhibition
As a business owner or marketer, participating in Trade Shows and exhibitions can be an effective way to showcase your brand, products, and services to a wider audience. However, the impact of such events on the environment can be significant. From the materials used to construct booths to the energy consumed to power lighting and electrical systems, exhibitions can be resource-intensive.
Thankfully, there are ways to exhibit sustainably, reducing your environmental impact without sacrificing your exhibition goals.
Vinehall Displays, a leading exhibition stand design and build company, is committed to sustainability, with systems and materials designed to be 100% reusable, low-energy, and recyclable.
In fact, Vinehall has been recognized for its sustainability efforts by winning the EcoVadis Gold Medal for the second year in a row. Vinehall is committed to offering eco-friendly solutions to its clients, and in this blog post, we will discuss tips and advice for a successful exhibition while minimizing your environmental impact.
Vinehall understands the importance of sustainability in today's world. They are committed to reducing their environmental impact and have implemented various initiatives to achieve this goal. One of their most notable achievements is winning the EcoVadis Gold Medal for the second year in a row. EcoVadis is a global sustainability assessment company that evaluates companies based on their sustainability performance. Winning this award is a testament to Vinehall's commitment to sustainability and their efforts to reduce their environmental impact.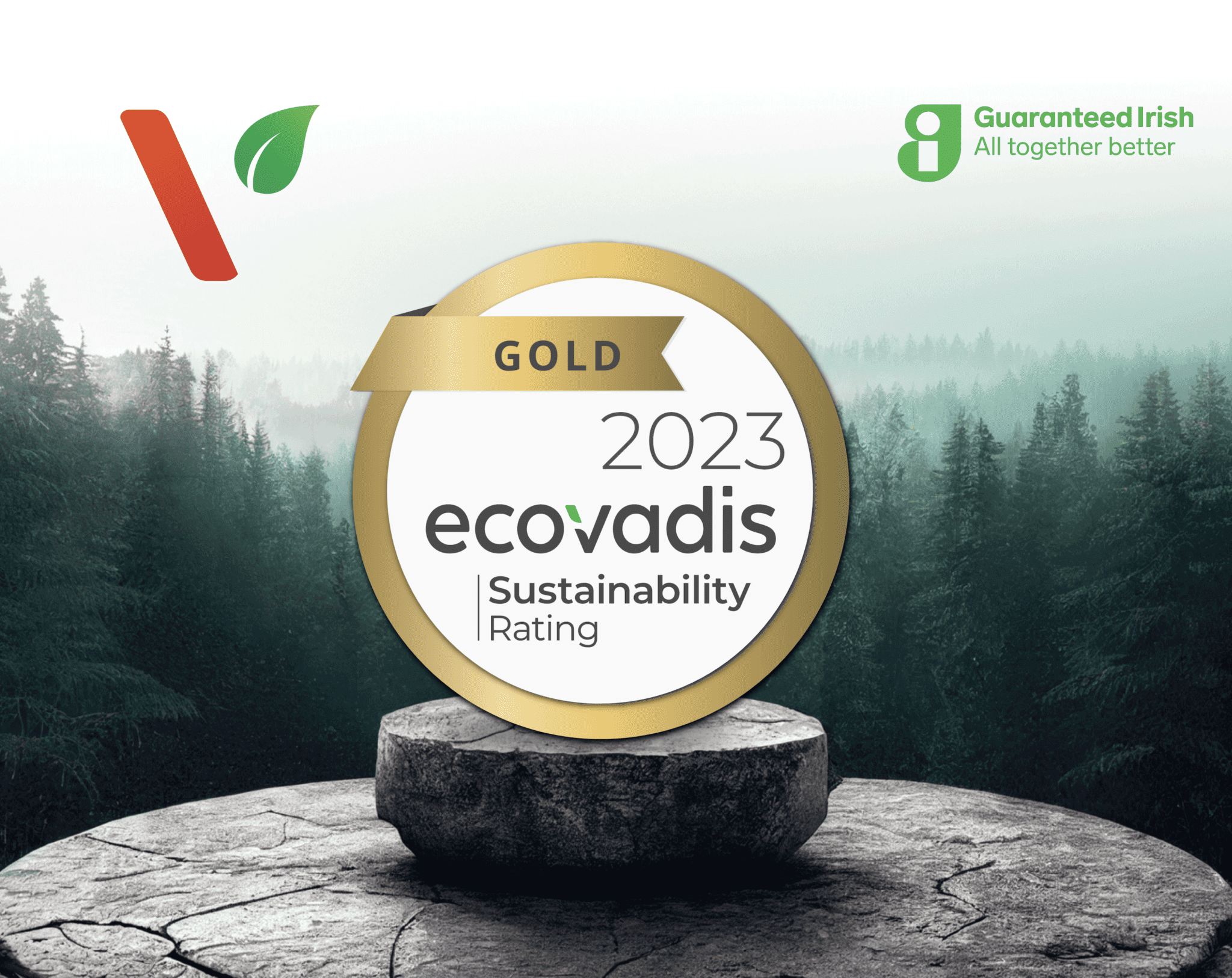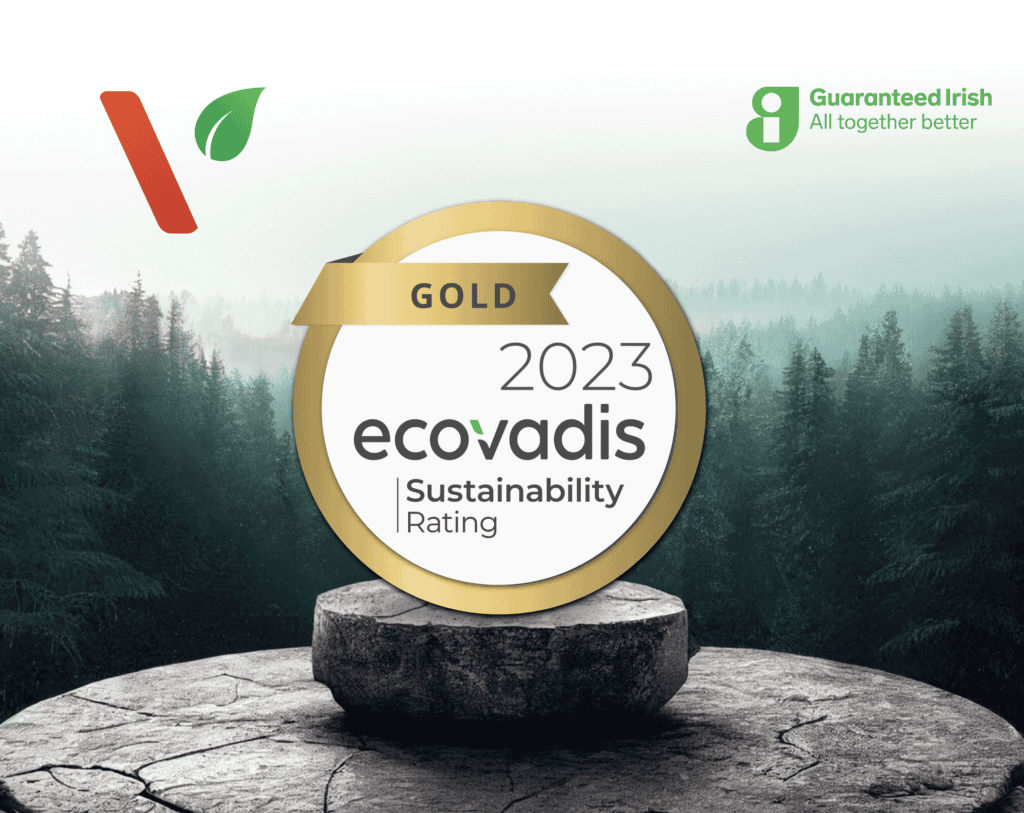 In addition to its internal sustainability efforts, Vinehall offers eco-friendly solutions to its clients. We understand that sustainability is becoming increasingly important to consumers, and they are committed to helping their clients meet this demand. They offer a range of eco-friendly products and services, such as recycled materials for booth construction, energy-efficient lighting solutions, eco-friendly promotional products, and more.
Here are some tips and advice for exhibiting sustainably at Vinehall:
PLAN AHEAD
Planning ahead is essential when exhibiting sustainably. You need to think about how you will transport your products and materials, how you will construct your booth, and how you will dispose of waste. Consider using eco-friendly materials. Also, consider using LED lighting or natural light to minimize energy consumption.
REUSABLE MATERIALS  SYSTEMS 
When selecting products to exhibit, choose sustainable products made from renewable or recycled materials. If possible, select products that are reusable or have a longer lifespan. Vinehall is committed to sustainability not just in its own operations, but also in the services they offer to its clients.
One example of this is their use of the BeMatrix frame system, which they offer to their clients for use in their exhibition booths. BeMatrix is a modular frame system made from lightweight, reusable aluminium that can be easily assembled and disassembled without the need for tools or specialized equipment. The system allows for a wide range of customizations, including using sustainable materials and graphics, making it an ideal solution for exhibitors looking to reduce their environmental impact while still creating a visually impressive and engaging booth.
Furthermore, the beMatrix frame system is the strongest, light-weight, and only toolless system in the market. This can provide many advantages:
Fast build-up and assembling
Clean design look
Long-life cycle and endless reusability
100% recyclable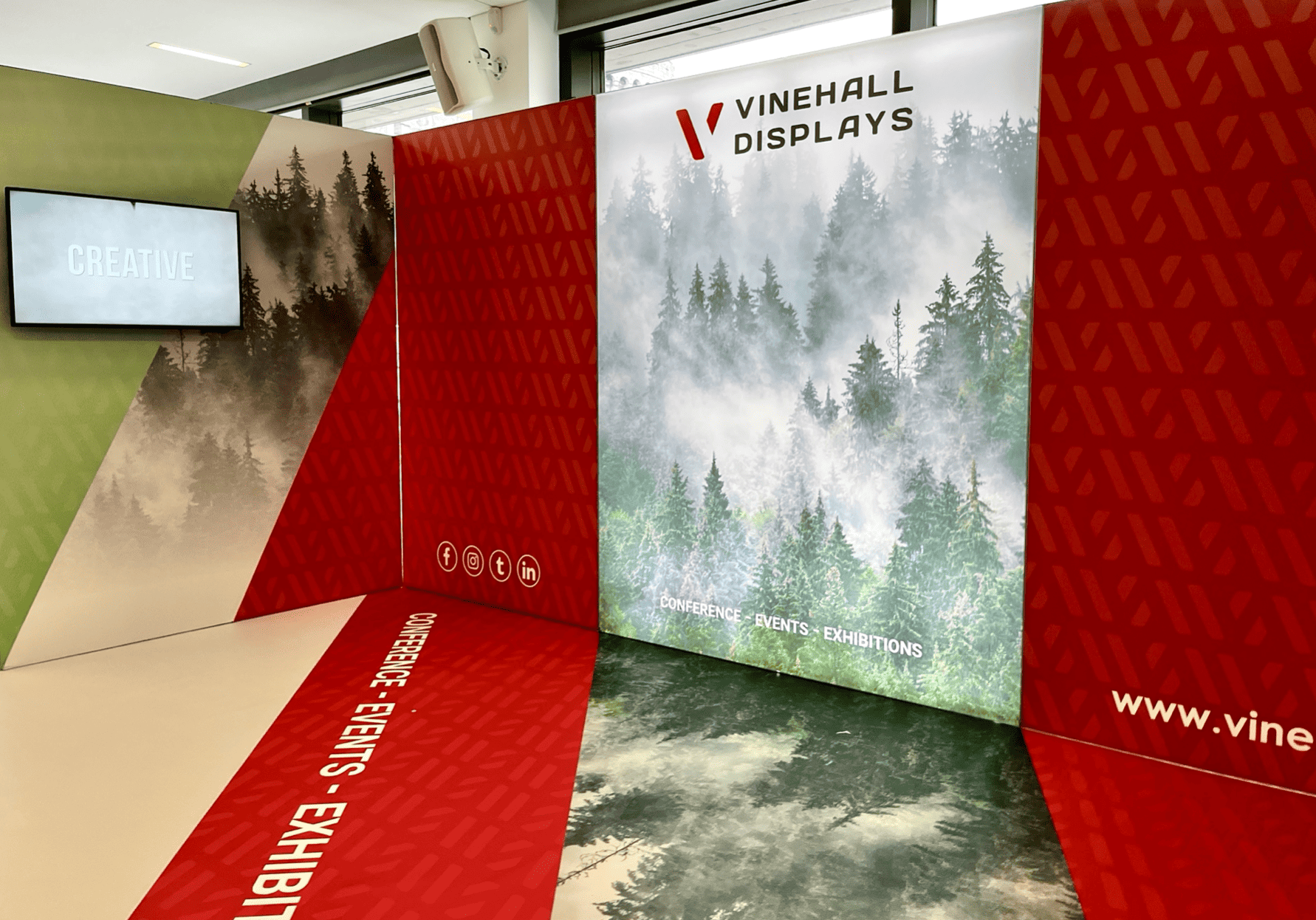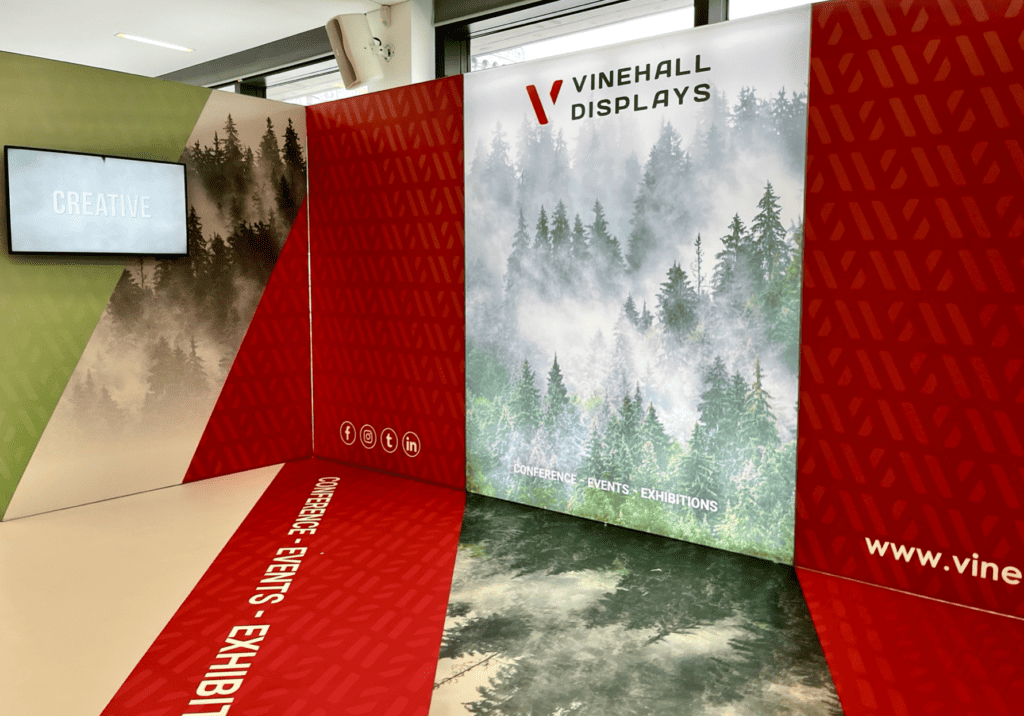 Vinehall frame system meets all the needs of today's stand and event builder.
It combines the modular aspect with a custom-built look.
Great ROI thanks to a fast build-up and endless reusability. You save on material and manpower.
Modular and multi-purpose: The same frame is suitable for both panels and textiles.
The most sustainable system on the market: limited use of infills, endlessly reusable and modular frames, lightweight system, reduced chrome plating or coating. Lightweight – the frames are lightweight, and less fuel is used during transport. Reusable – we can use the frames up to 200 times, in all kinds of configurations. This contributes to less environmental impact. Modular – With beMatrix you can enjoy a unique 360° approach: it is the only system to not only build walls but also ceilings & floors. This makes the frames more profitable and reusable.
The beMatrix is the only modular system in the market that is invisible. beMatrix has the look and design of a traditional building while having the modularity and possibilities of a system. By combining aluminium frames with panels or textiles in a clever way, beMatrix bridges the gap between traditional wood construction and prefabrication. The never-ending product development makes sure the system can cope with almost every design. An important development for the stand-building world is the evolution to real seamless solutions. As we fix our panels, textiles, or alternative infills onto our frames and not in between structures, our structure is hardly visible, leaving more space for graphics and giving it a clean design look. As the structure is not seen, damages or scratches do not shorten the life cycle of the system.
The beMatrix system is not only fast and easy to use, but it also has a long life cycle and is endlessly reusable. By constantly re-using the same frames, your investment pays back in no time. Even after the smallest adjustment or expansion of an existing stand, none of the used materials is wasted. Our frame system and its modularity are not subject to the whims of fashion.
The fast building and lightweight & ergonomic system make it possible to do more with fewer personnel and less transportation of materials. Furthermore, we don't use any acids that could pollute the environment to produce our aluminium frames. Additionally, the use of harmful substances like paint and glue is prevented as much as possible by using textiles or panels with our frames. And since our aluminium frames are 100% recyclable even after a long life cycle, the waste is reduced to an absolute minimum.
beMatrix obtained a first certificate from the UN Climate Change. They achieved a gold, silver, and bronze level in the 3 domains: measure, reduce, and contribute.
By offering the BeMatrix frame system to their clients, Vinehall is not only helping to reduce the environmental impact of exhibitions but also providing a sustainable and innovative solution for their clients.
In conclusion, Vinehall Displays' modular stand system is designed to be 100% reusable from show to show. This means that the materials used to construct your booth can be repurposed and used again, reducing waste and saving resources. Choose this system to reduce your environmental impact and save on costs over time.
OPT FOR LOW-ENERGY LIGHTING
All of Vinehall Displays' lighting is low-energy LED type, which means they consume less energy than traditional lighting systems. Not only does this save on energy costs, but it also reduces your carbon footprint. By choosing low-energy lighting, you're making a small but important contribution to the fight against climate change.
USE RECYCLABLE FLOORING & CARPETS
Vinehall Displays offers a 100% recyclable flooring system for all modular stands. This means that after your event, the flooring can be recycled instead of ending up in a landfill. Choose this option to reduce your waste and promote sustainability.
In addition to their modular stand flooring, Vinehall also offers a range of sustainable ECO-raised flooring solutions, including carpets and tiles, that are not only made from recycled materials but also designed to be recycled.
The raised flooring is made from recycled plastic, which can be 100% recycled and reused for years to come, making it a more sustainable option than timber sheets. By using recycled materials and designing its products with recyclability in mind, Vinehall is committed to reducing waste and promoting a circular economy.
So, if you're looking for a flooring solution that is not only eco-friendly but also sustainable throughout its lifecycle, Vinehall Eco Flooring's range of recycled and recyclable products may be the perfect choice for you.
USE NON-TOXIC INKS
Vinehall has the only SwissQprint Nyala 3 Flatbed printer in Ireland, the flatbed printer also has a 3.2m Roll to Roll that prints to up to 2100 dpi with white and varnish ink ability. This printer is the best in its class for the quality, precision, and versatility of the material it can print on. The Nyala 3 is a multi-award winning UV LED large format printer of SwissQprint with a 3.2m x 2-meter flatbed, 9 configurable colour channels, and high productivity provides the enormous scope, so there are hardly any limits on formats that can be handled.
The large-format printer is environmentally friendly thanks to no maintenance,pollutant-free LED technology and minimal power consumption. SwissQprint develops and manufactures high-end UV Inkjet.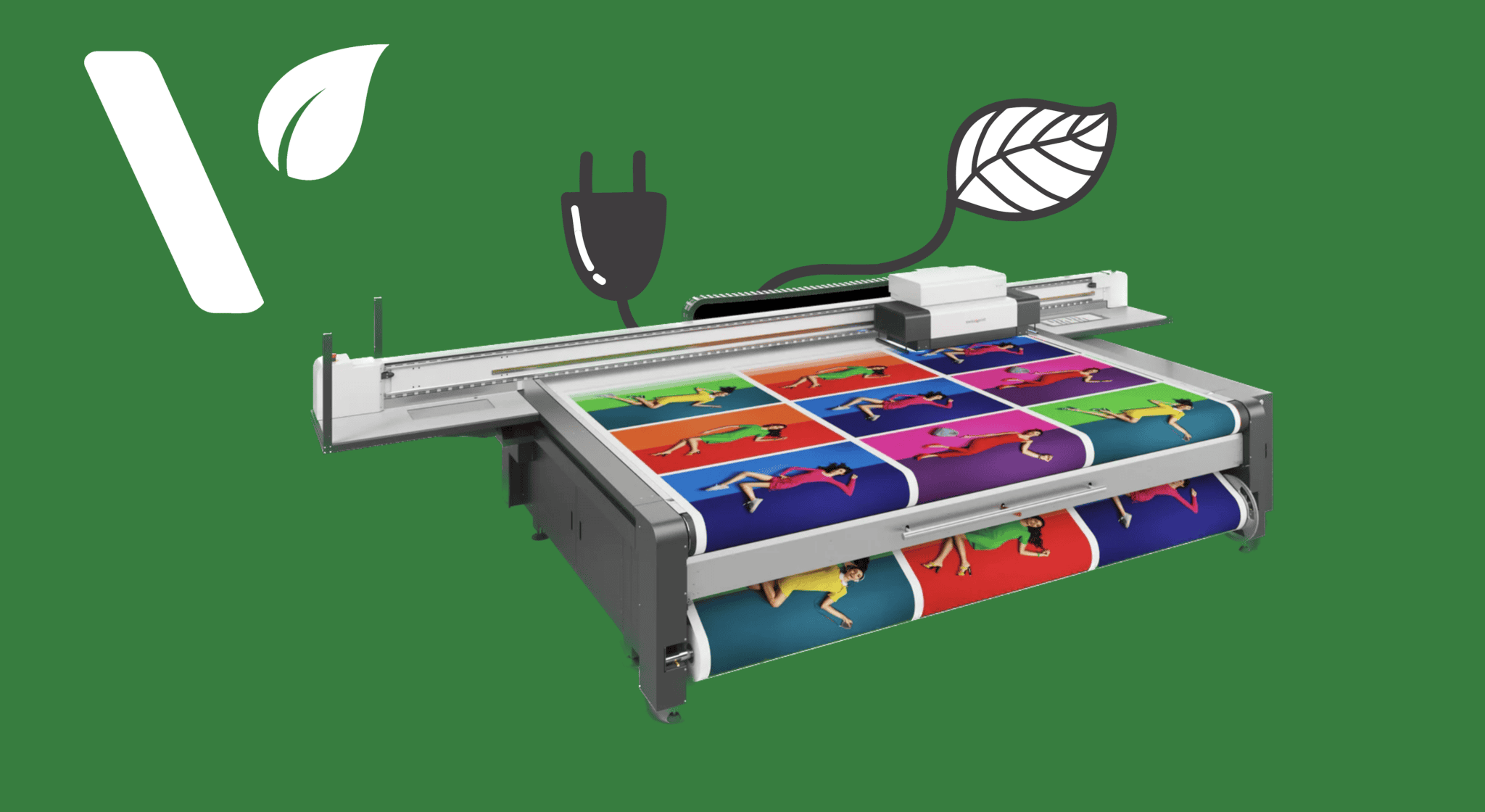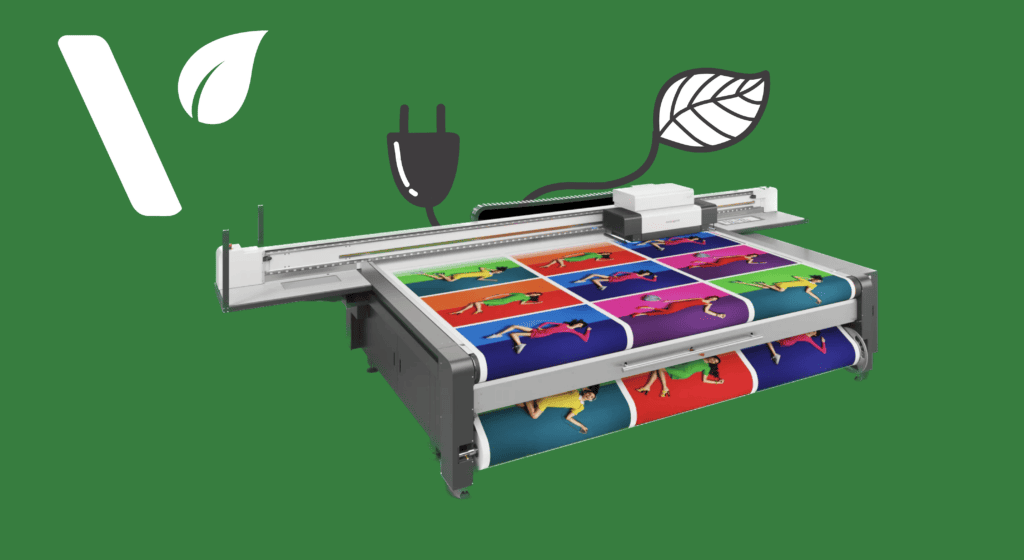 All prints produced with Vinehall swissQprint standard inks are perfectly suitable for critical environments such as schools or hospitals. Vinehall Displays uses inks that are all Greenguard and Greenguard Gold certified. Greenguard ensures that indoor products comply with strict chemical emission limits, resulting in a healthier indoor environment.
Recyclability and the environmental aspect is other important factor in our decision-making. Recyclability is becoming a major issue and many customers will rightly demand this. Coupled with our recycling partner Panda Waste Vinehall has a very robust recycling system in place.
Vinehall not only reduce the number of resources they use for each event, but they also try to reuse or repurpose it as often as possible. We also aim to support our local communities' environmental efforts by repurposing items to continue their file cycle.
Vinehall swissQprint flatbed printer is highly energy efficient as certified according to ISO standard 20690. Economical in power consumption, the printers thus conserve resources. It consumes little electricity in relation to its productivity, which bears a positive on operating costs and the environmental balance. The average consumption is 2,2 kWh. swissQprint is the only manufacturer that can provide this certification.
USE A PORTABLE BATTERY SOLUTION 
Vinehall Displays is committed to sustainability in all aspects of its business, including its use of power systems. Instead of relying on petrol generators, which can be environmentally harmful and produce noise pollution, Vinehall uses the Professional InstaGrid Power One Max Portable Power System.
By using the batteries to charge the power tools and light up the Events, Vinehall can significantly reduce local air pollution and enhance the quality of life for those around us.
In addition to reducing emissions during use, Vinehall battery solution has a smaller carbon footprint over its entire life cycle than traditional petrol generators. This allows us to prioritize sustainability and choose energy production sources wisely, paving the way for mobile work without any local emissions.
ENSURE ELECTRICAL SYSTEMS ARE LEAD-FREE AND ROHS COMPLIANT 
All of Vinehall's electrical systems are lead-free and RoHS-compliant, which means that they don't contain any hazardous substances. This reduces the amount of hazardous waste generated by your exhibition stand and ensures that it can be safely disposed of after the event.
REDUCE, REUSE, RECYCLE 
Vinehall has a rigorous recycling program in place to ensure that all of the waste is recycled wherever possible. Vinehall also encourages our clients to reduce the amount of waste generated by their exhibition stands, reuse materials where possible, and recycle any waste that can't be reused.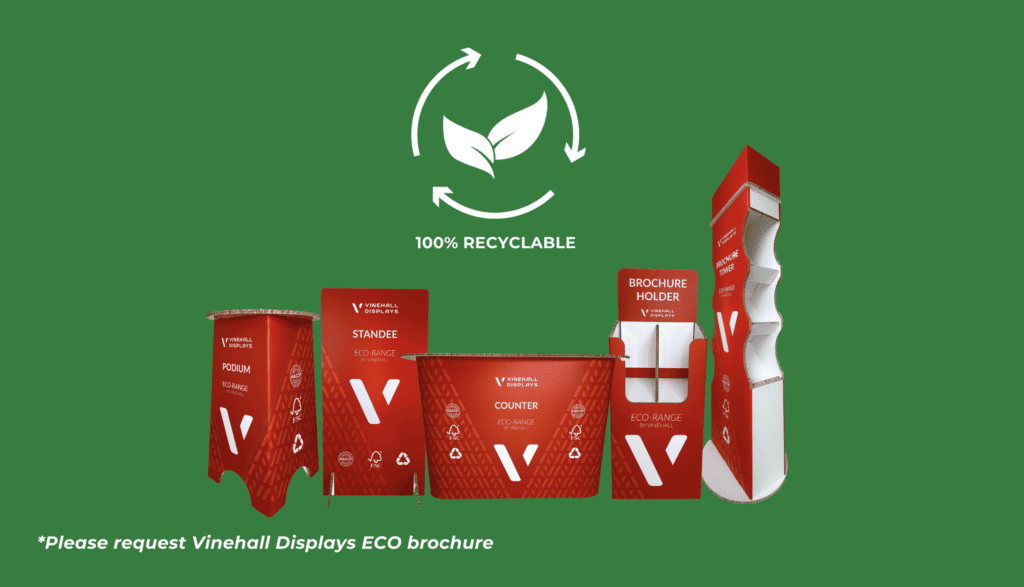 Another important aspect of exhibiting sustainably at Vinehall is offering storage to clients. By storing their displays with Vinehall, clients can reduce their carbon footprint, and minimize waste by reusing their displays for multiple events.
Vinehall offers secure storage facilities for clients to store their displays, graphics, and other exhibition materials. This not only saves clients' money on storage costs but also reduces the need for new displays to be produced for each event. By reusing displays, clients can significantly reduce their environmental impact while still achieving a successful exhibition.
Moreover, storing displays with Vinehall allows clients to have peace of mind that their displays are well-maintained and readily available for future events. 
TAKE ADVANTAGE OF OUR RAPID BUILD TIMES  
Our rapid build times mean that fewer resources are used during the build-up process, reducing the environmental impact of your exhibition. It also means that your exhibition stand can be up and running in less time, giving you more time to focus on your business.
In conclusion, exhibiting sustainably at Vinehall is not only good for the environment, but it can also save you money in the long run. By choosing 100% reusable display systems, low energy LED lighting, recyclable flooring systems, non-toxic inks, lead-free and RoHS-compliant electrical systems, and taking advantage of our recycling program and rapid build times, you can reduce your environmental impact and create a successful, sustainable exhibition.
Contact us today at 01- 8359674 to learn more about our sustainable exhibiting options.