Stand out from the crowd and hire our BeMatrix Modular Frame System for your next exhibition
The "beMatrix" is the original frame system and has become a real game changer in the stand building industry.
Assembling the beMatrix frame system is so much faster then assembling a traditional profile-based system. What's more, it's very low in weight and does not require any tools for assembly.
Our beMatrix aluminium frame stands can be combined with both panels and textiles. With our frames system possibilities are endless as they can cope with almost every design. Straight, curved, door frames for multiple applications: stand building, events, displays, pop ups and conference rooms. Frames can be oriented horizontally, vertically or flat: your perfect 360° solution. Thanks to big holes, the frames can easily be connected to each other, in all directions.
Panels, textiles or light walls are fixed onto the frames and now in between structures, rendering the frame neatly invisible. The result is an attractive and minimalist look allowing for maximum amplitude in visual communication.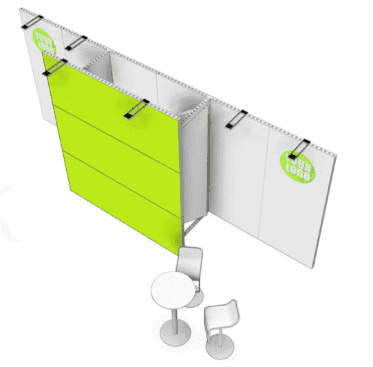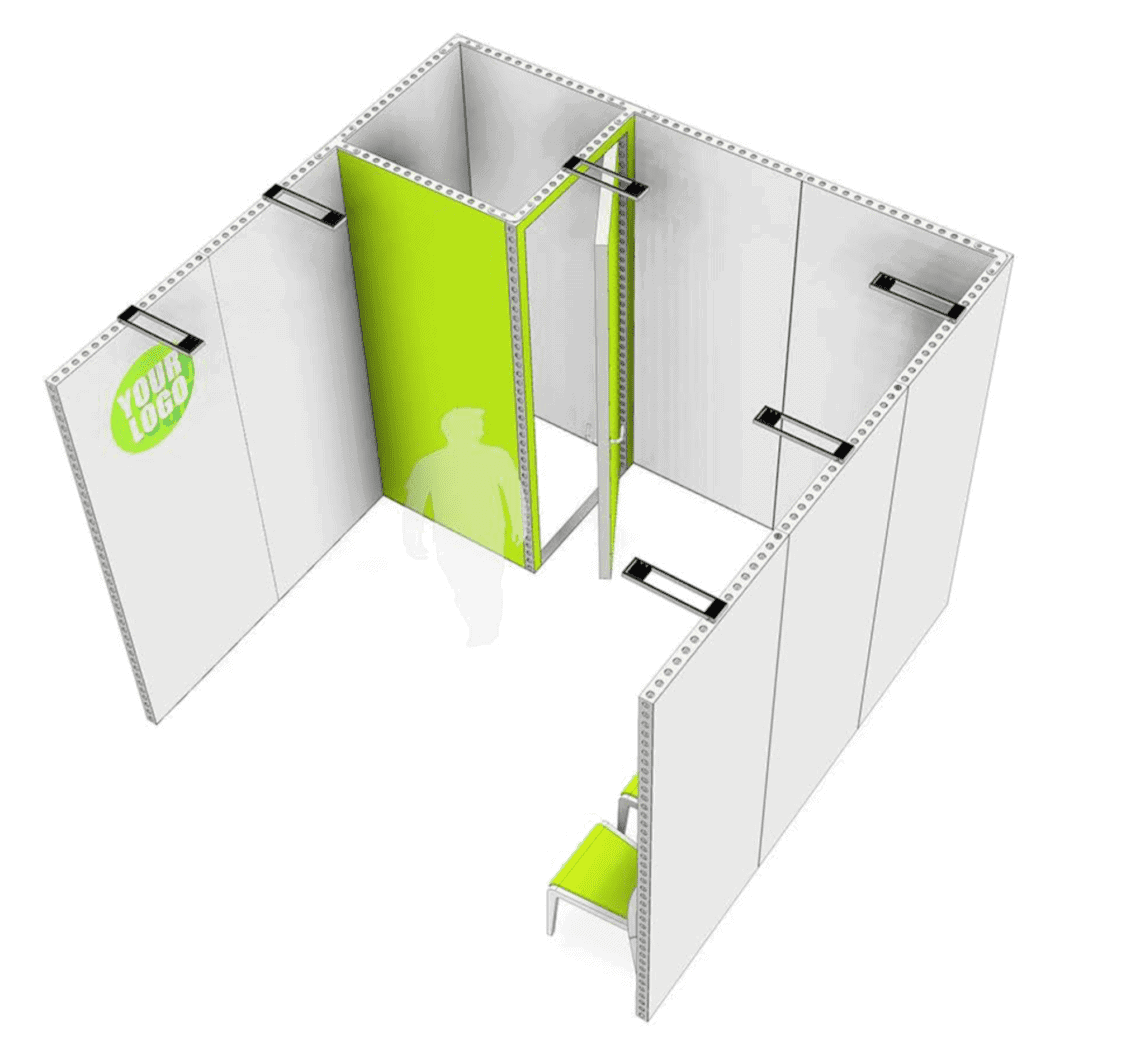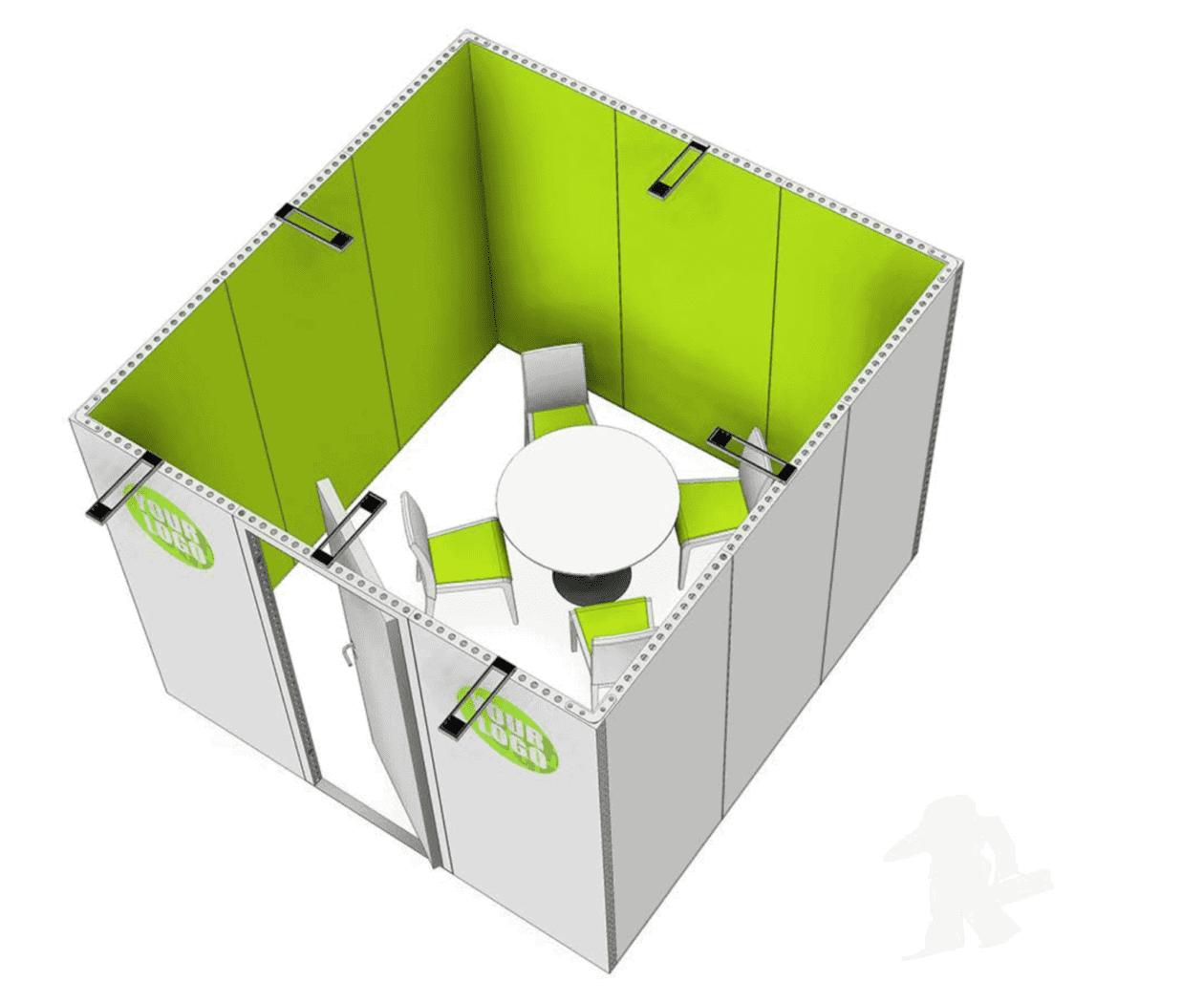 In fact, the typical features of this system are in full compliance with the 3 P's:
Lightweight
The low weight is one of the reasons why our frames are regarded as very user friendly and allows the stand builder to use less personnel for assembly.
Durable
Our frames can be used over 200 times, in different types of set-ups, which is great ROI criterion for the stand builder – at the same time, we lower the need for raw materials to manufacture new frames.
Modular
The beMatrix frame system allows a 360° configuration: the frames can be used for flooring, ceiling and walls. One group of frames can be used in different kinds of set-ups, so the stand builder has no need to acquire additional frames.
The most sustainable product in the market
The beMatrix system is not only fast and easy to use, it also has a long-life-cycle and is endlessly reusable. By constantly re-using the same frames, your investment pays back in no time. Even after the smallest adjustment or expansion of an existing stand, none of the used materials are wasted. Furthermore beMatrix company doesn't use any acids that could pollute the environment to produce their aluminium frames. Additionally, the use of harmful substances like paint and glue is prevented as much as possible by using textiles or panels with beMatrix  frames.
And since these aluminium frames are 100% recyclable even after a long life cycle, the waste is reduced to an absolute minimum.
The ultimate stand can be modified for every show
No two trade shows or exhibitions are ever the same. It makes perfect sense not to try and create the same stand everywhere you exhibit. If you tried to do that, it might be good for environment and offer some economic benefits, but unfortunately it would be really hard to achieve. Unless you opt for our innovative system beMatrix frame system. Our system is based on an aluminium weight-bearing structure on to which you attach textile or panels. Quickly and without any special tools or technical equipment. Regardless of how you mouth the stand, with or without shelving, screens and many other accessories, the result is always sleek and great-looking. The weight bearing structure is neatly concealed behind the display panels. Whether your stand is high-tech or conventional, there are endless variations that you can achieve using the same frame system.
Vinehall Displays can provide the complete, integrated service, taking the stress out of the entire process of organising exhibition stands. From the first call or email, our project managers will work with you to find out your technical and creative requirements. They will then provide a result that transforms your floor space and builds your brand in a comfortable, functional environment.